THE COMPLETE BURN180 SYSTEM
SUCTION CUP
The BURN180 system is all centered around our movable, commercial-grade positioning cup. Position your resistance training pretty much anywhere — for specific muscle groups or stabilizer muscles that have a major impact on muscle development and growth
SUCTION CUP

The BURN180 system is all centered around our movable, commercial-grade positioning cup ... Position your resistance training pretty much anywhere—for specific muscle groups or stabilizer muscles that have a major impact on muscle development and growth.

RESISTANCE BANDS

We've got all the range you need. BURN180 bands can be resistance-adjusted from 10 lbs ... to 130 lbs. And for next-level training, you can also purchase additional bands for a maximum resistance of 180 lbs.

SPEED & AGILITY BAND

The BURN180 Speed & Agility Belt came from the requests of our pro athletes using ... the BURN180 system. The athletes wanted the ability to take advantage of resistance training to increase their on field speed, balance, and agility for enhanced performance. With the full rotational ability of the Belt you can make simulated on field "cut" movements in a complete 360 fashion. A great accessory item, especially for those involved in football, basketball, soccer, tennis, and all sports requiring quickness and agility training.

ANKLE STRAPS & HAND GRIPS

Our BURN180 Training System uses only the highest quality products ... and materials that are "overbuilt" to provide you durability and comfort. Our ankle straps are highly padded with the added use of thick neoprene. Our hand grips are triple stitched and use a handle with texture for increased grip.

TRAINING STICK

The PRO Stick was developed to add to the functionality of your BURN180 PRO ... Whether for general fitness training to use in rowing or weight pressses to golf and baseball training in swing development. The PRO Stick is the "tool" of choice for most of our professional athletes using the BURN180 PRO system. Due to the variable resistance it provides you will get maximum "core" workouts employing the PRO Stick into your routines. Unlike other similar training devises the PRO Stick weighs in under 6 oz and telescopes to fit everybody from 25.5" collapsed to 42.5" fully extended.
PRO+ BUNDLE
Regular price
$439.00 USD
Regular price
Sale price
$439.00 USD
Unit price
per
Sale
Sold out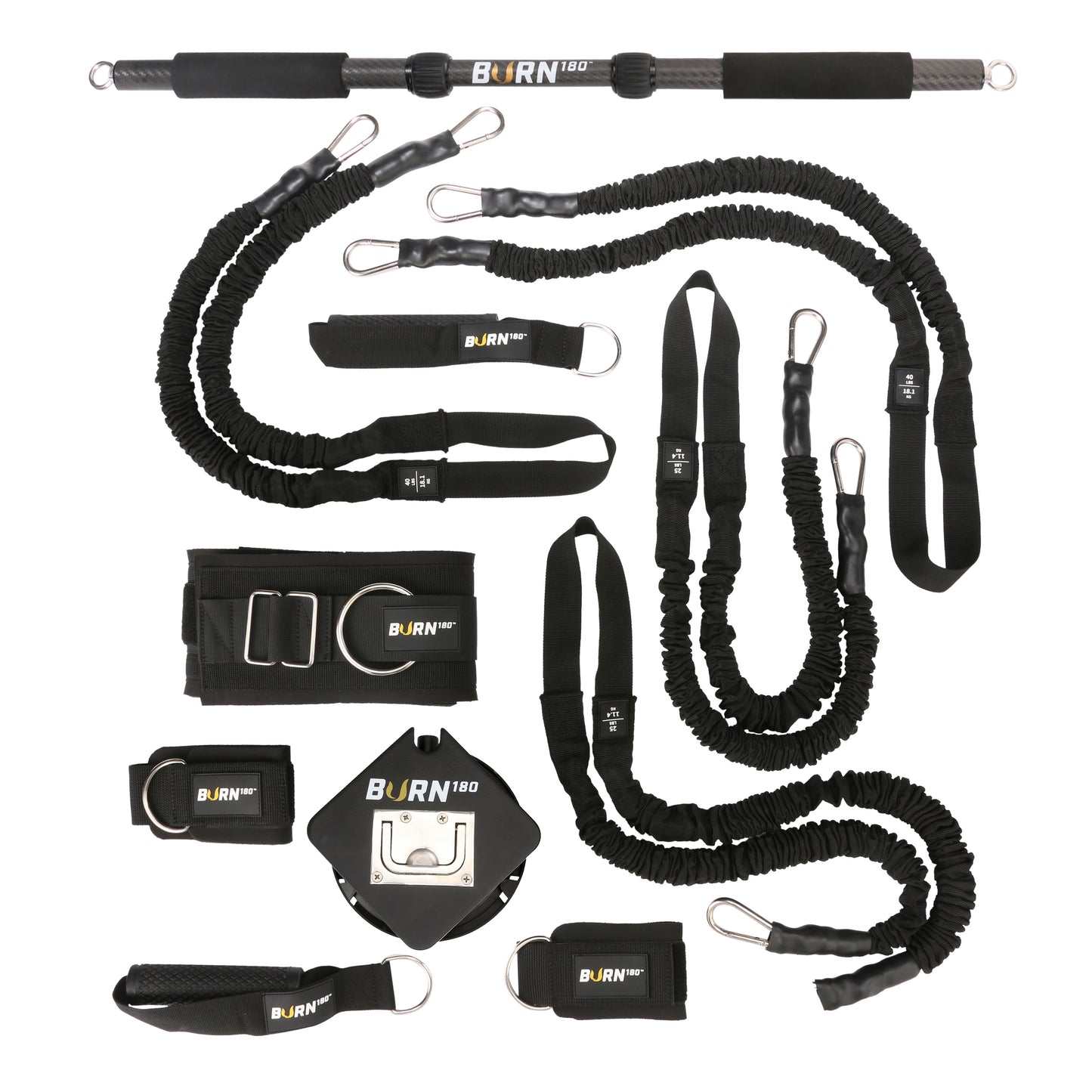 OVER 200+ WORKOUTS POSSIBLE
Not sure what's possible? We'll show you. BURN180 provides videos targeted on specific muscle groups and sport specific training regimens—all endorsed by our medical training staff of Physical Medicine and Rehabilitation Physicians and Certified Physical Therapists.
BICEP CURL

GLUTE KICKBACKS

LATERAL RAISES

CHEST PRESS

SQUATS

UPRIGHT ROW

BACK ROW

LUNGE