USER GUIDE
Attaching Your Vacuum Mount: Make sure the mounting surface is clean and clear of any obstructions. The mounting surface should be non-porous; smoother and flatter is better. Press firmly against the BURN180 plate so the vacuum pad is making a seal against the mounting surface. Pump the plunger until the gray indicator band is no longer visible
REMOVING YOUR VACUUM MOUNT
With your fingertip, use one of the tabs on top of the vacuum pad to lift the edge of the pad and break the vacuum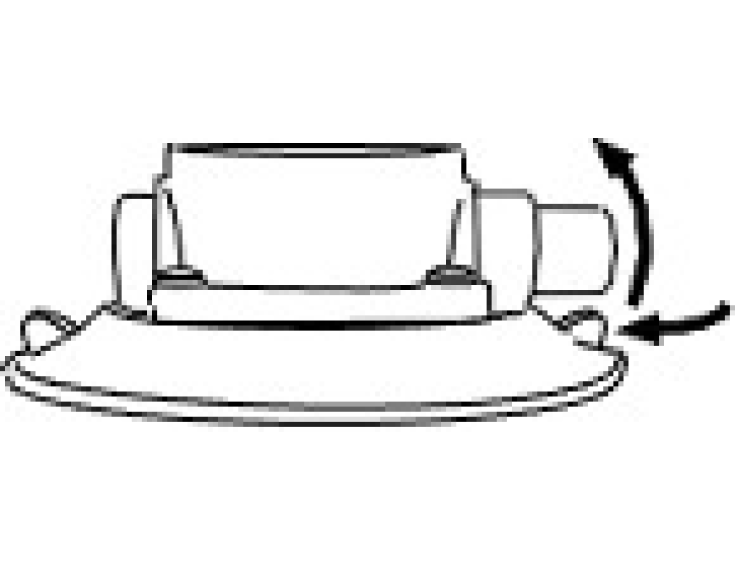 Check the Indicator Band During Use
Monitor your vacuum mount during use. If you see the gray band on the plunger, pump as described above. If the gray band appears less than two hours after being pumped to full strength, maintenance may be required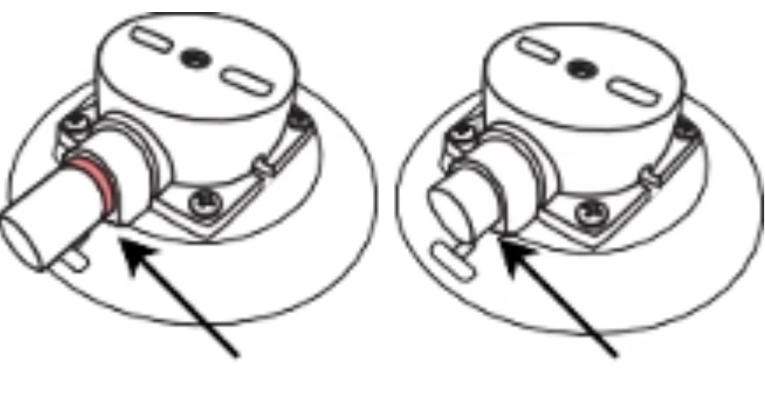 Gray indicator band exposed
time to re-pump! Full power!
CARE AND MAINTENANCE
To get the most out of your BURN180 product, inspect it regularly and store it with the vacuum mount's protective cover on. Check that all screws, bolts, and nuts are securely tightened.

Clean the vacuum pads before each use with a sponge or soft cloth, mild dish soap and water. Do not use harsh solvents or abrasive cleaning pads. Inspect the sealing edge for stiffness, cracks, roughness, or cuts. A damaged vacuum pad should be replaced.

The vacuum pump should be cleaned regularly. Pull the plunger straight out of the pump cylinder. Clean the inside of the cylinder with dish soap and a soft cloth or paper towel. Dry the inside of the cylinder – water left in the cylinder may interfere with the check-valve function of the pump. Wipe the plunger clean. Push the plunger back into the cylinder and pump it several times to seat it properly and distribute the lubricant
BURN180 offers a limited, non-transferable warranty to the original purchaser covering defects in materials and workmanship. Defective products can be returned to KLW Fitness Products for replacement (at KLW Fitness Products option). Warranty claims must be accompanied by a sales receipt or other proof of purchase document. The cost of transportation to and from KLW Fitness Products for the replacement of any defective part or accessory is not covered by this warranty and is to be paid by the owner.

This warranty does not apply to damage or failure resulting from routine wear and tear expected in the normal use of this product, or to lack of maintenance, user error, alteration or modification of the product, accidents, misuse, abuse, or neglect.

This warranty is given in lieu of all other written or oral warranties, express or implied, including without limitation implied warranties of merchantability and fitness for a particular purpose, and are limited to the duration and specifications of this warranty.

Purchaser's exclusive remedy under this warranty is the replacement of a defective product or, at KLW Fitness Products option, the issuance of a refund or credit for the purchase price of the product. KLW Fitness Products liability for any damages relating to any allegedly defective product, whether arising from the use or the inability to use the product and whether claimed under tort, contract or any other legal theory, shall be limited to the actual price paid for such product and shall in no event include loss of use, loss of time, incidental, consequential, special, or indirect damages of any kind, even if KLW Fitness Products is aware of the possibility of such damages, to the full extent as such may be disclaimed by law.
Do not use your BURN180 to support a person or resistance loads that exceed the stated 180lbs of resistance. Do not support loads that could cause injury if your BURN180 disengages unexpectedly.
Avoid conditions that could cause your BURN180 to slip or disengage prematurely, such as contaminants, cuts, or nicks on the mounting surface, applying your BURN180 to porous materials, or applying pressure against the vacuums edge.

Do not use your BURN180 when the gray band is visible. If the gray band appears frequently, discontinue use and refer to BURN180 Maintenance and Troubleshooting Guide

Monitor your BURN180 while in use continually checking its grip and that the gray band is not visible
Attaching your BURN180 Resistance Bands
Attach your BURN180 vacuum mount according to the above directions. After pumping the plunger pull on the black mounting plate to make sure of a secure hold to the surface. Visually check to make sure the gray band on the plunger is not visible.

Attach your BURN180 resistance bands to the stainless-steel latch connected to the black mounting plate. Utilize the heavy-duty carabiner to attach securely to the latch.

Attach your hand pulls and/or ankle straps to the carabiner attachments on the opposite end.
Stand a distance away that provides adequate resistance. Take a step forward to reduce resistance and a step back to increase resistance.

The BURN180 works best when straight across from the pulling area, avoid too much of an angle from the surface to your pulling motion.
DO NOT exceed 180 total lbs of pull resistance. Your BURN180 has a maximum resistance it can withstand but many factors affect its overall performance
Your BURN180 PRO device and its associated accessories have been vigorously tested. At KLW Fitness Products we want to make sure you are happy with your purchase and we proudly offer a 45-day WARRANTY period. If your BURN180 fails to perform as described due to poor craftsmanship KLW Fitness Products will replace any BURN180 product if after returning the product for our own inspection we feel it is a replaceable product.
Please contact us at info@burn180.com and you will be directed on how to return your defective unit. KLW Fitness Products will do its best to get back to you with 48 hours after receiving your message.